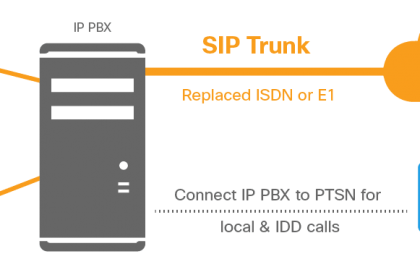 How will SIP Trunking benefit your business?
Discover how to get more control and flexibility over your business
telephony with SIP Trunks.

What is SIP trunking?
Your voice and data connections are vital components of your business – but so are the costs Of running multiple lines, their flexibility and how much control you have over them.
SIP Trunking provides a flexible and low-cost
an alternative to ISDN for inbound and outbound voice calls. This factsheet will highlight the benefits of moving to SIP.
Business continuity
SIP trunk offers a flexibility that is not available
through traditional ISDN. A number of possibilities can
affect how resilient your voice and data connections are,
unforeseen circumstances – such as damage to lines,
moving offices or being unable to redirect calls, can
be damaging to your business minimizes
these problems and ensures you can keep working
through every eventuality.
Number flexibility
SIP trunk supports your business by allowing you to
decide which number you want to display on a call by-
call basis, Even if you're making a significant move in
location, or just wanting to grow your business without
opening more offices, SIP trunk allows out-of-area
geographic number ranges to be used – showing you
business as local, despite being physically located
elsewhere,

PBX SIP Trunking
PBX SIP Trunking is an ideal solution for your business with an on-premise IP-PBX who wish to reduce telecom expenses but are not ready to do a complete replacement or dispose of their PBX pieces of equipment.
Better United
Integrating easily into your existing PBX, SIP Trunking solution allow you to make phone calls using the PBX's internet connection. NO extra hardware is needed, so you can benefit from the saving immediately.
In other words, save money and improve reliability by routing phone calls over the internet, instead of through a phone company
Reduced your operating cost
Easy scalability
Failover protection
Business continuity
99.999% uptime, guaranteed